Freeride Lodge Niseko Accommodation - Your Skiing & Snowboarding Base
Are you heading to Niseko for your next skiing or snowboarding adventure? Then make the Niseko accommodation Freeride Lodge you base of operations for the time of your life. Our lodge is more than a room, it's your home away from home while you're enjoying Niseko's awesome snow, culture and people. At the Freeride Lodge you get:
Complimentary western breakfast
Free WIFI
Exclusive discounted Backcountry tours from 10000 Yen when you book your stay with us
Free 'First Tracks' shuttle operating from 8.00am- 9.00am
Comfortable western bedding
Guest lounge area
Newly renovated shared bathrooms
Tea and coffee making facilities
On-site parking
Twin and dorm rooms
Experienced and knowledgeable managers to help plan your perfect holiday
In-house Restaurant and Bar The Mexican Mule Restaurant and Cantina
Free transfer on arrival and departure from Niseko Town/Village
Snowboard and ski storage
Drying room
Bus stop at the front door
5 minute walk to closest lift

Imagine waking up to snow falling outside of the window knowing you are only meters from a mountain of untouched powder! Once you venture out of your room, the staff at Freeride Lodge will greet you each morning in the dining room with a delicious western style breakfast (yes bacon and eggs) and a continental selection. After enjoying your breakfast it's time to gear up and get ready for the complimentary 'first tracks' shuttle to Niskeo Village gondola, which is only a few minutes' drive away.
Having spent an incredible day on the mountain, we welcome you back to the lodge to relax, recover and chat with the other guests. The lounge area is such a great place to catch up and share stories from your days riding. It is the perfect place to kick back and relax, play some cards, listen to tunes or watch a movie and meet fellow travellers.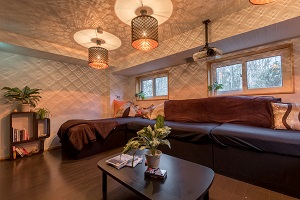 For those feeling more adventurous, why not come to the bar to enjoy Après drinks? The Mexican Mule Restaurant and Cantina is open daily from 4.30 pm come and enjoy Après ski, music and the great atmosphere, bar snacks and themed nights such as trivia nights.
If you want to venture out and try one of the many restaurants in the area, a bus stop is located virtually at the front door with buses operating from 8:00am till 1:00 am. Many of the restaurants in Niseko Town offer a free pick-up service if you would like to try out some of the local produce and culture away from the tourist hub of Hirafu.
If you are looking for a great place to have your next snow adventure. Freeride Lodge Niseko Village Japan offers the best Niseko Accommodation it is the place to stay. It is budget conscious niseko accommodation at its best.Who could want more than fresh tracks, great snow, new friends and fantastic hospitality? Come and get neck deep with Freeride Lodge Niseko Japan!